Crossposted from the LIBRARY. 9 precincts left to go...
Hot-damn!! A true photo-finish!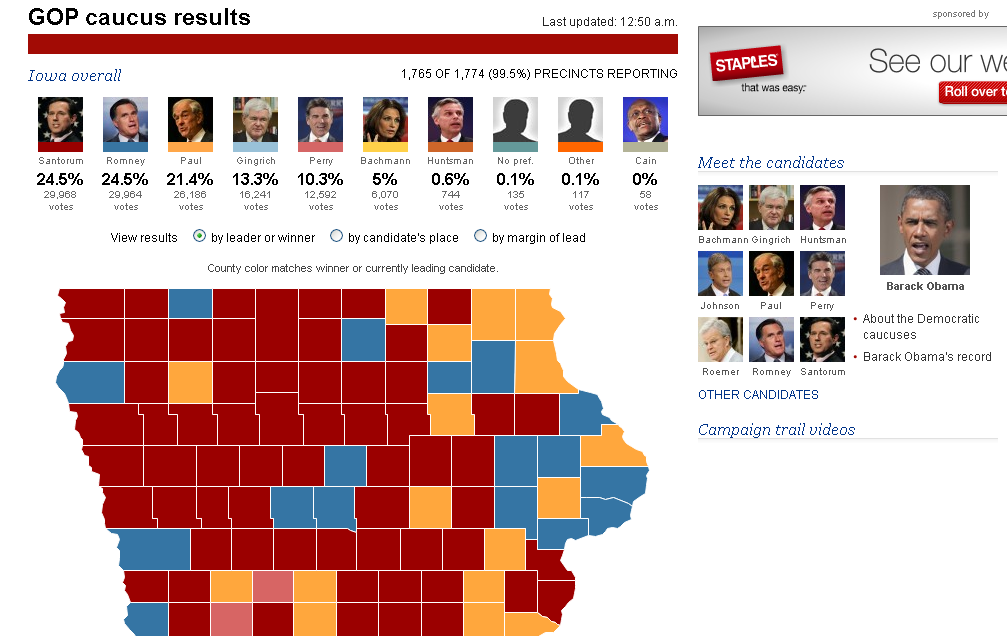 A spread of 4 votes. Wow. As of now, statistically, Romney has gotten 15 votes more than he got in 2008, but did about 0.8% worse on overall percentage. Once again, as in national polling, Romney just doesn't get over 25%. He will in NH, however.

According to the map, Santorum has won in 63 counties, Romney won in 17 counties, Paul won in 17 counties and Perry won in 2. 4 years ago, with 10%, Paul got 4 out of 40 delegates. This time, with 21.4%, if it remains proportional, then Paul gets 6 delegates.

I also want to point out that PPP, when you read the text about the last 48 hours preceeding the Caucuses, once again NAILED it: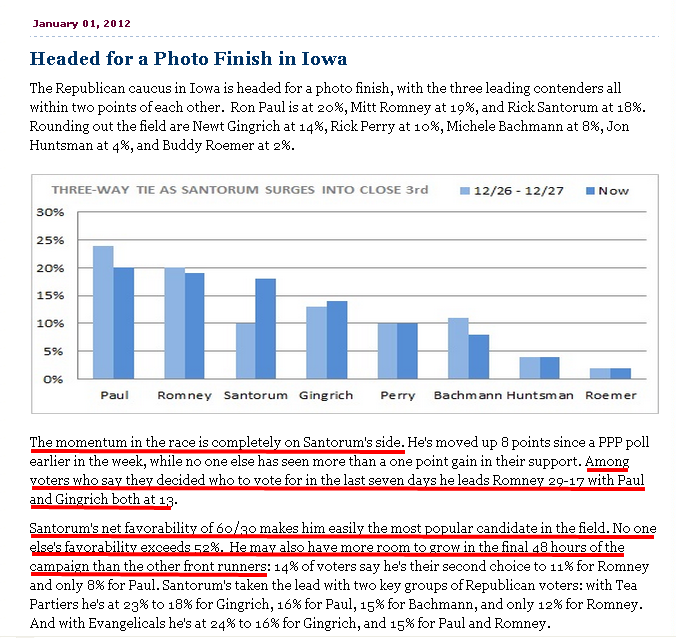 FACIT: Romney stood still in time between 2008 and 2012. This is part of scenario 2 (bottom of the report): Romney came in under 25% and you can bet that Romney detractors will make sure the whole world knows about it. Santorum was the surprise of the evening. Quite obviously, would-have-been supporters of both Perry and Bachmann coalesced around Santorum, giving him the win. Gingrich and Perry landed almost right where PPP had the numbers. Both Bachmann and Huntsman dropped. I think it is safe to say that the Huntsman supporters went to Romney.

It would not surprise me if Bachmann drops out tomorrow or after New Hampshire.


UPDATE: with 8 precincts left to go, Romney is now ahead by 8 votes: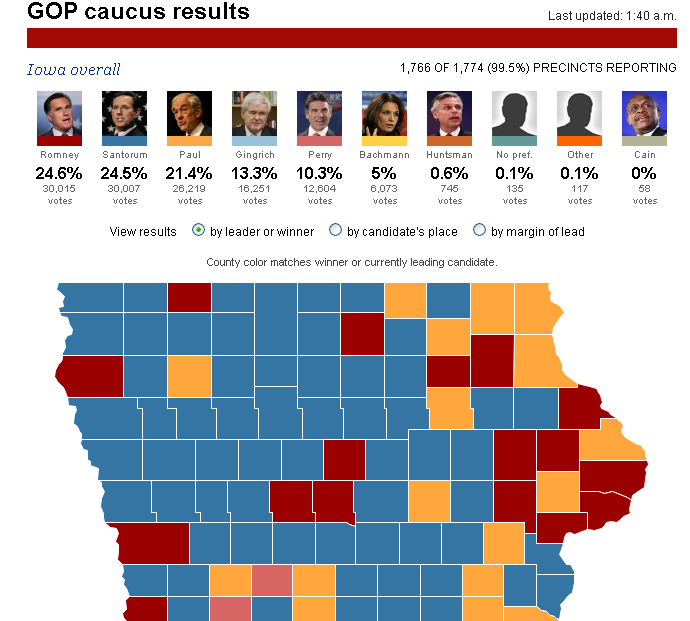 As of now, 122,224 votes cast.
There is also a little statistical dishonesty going on with the Des Moines Register. It currently gives Mitt Romney 24.6% of the vote and Rick Santorum 24.5% of the vote. Looks like a 0.5% difference, right?
Wrong:
Preliminary Caucus Result




Mitt Romney

24.56%




Rick Santorum




























































In reality, with 8 precincts out, Romney is leading by just
0.01%
, not 0.10%. +0.01% was George W. Bush's winning margin over Al Gore in Florida in 2000. Were this a primary, such a margin would trigger an automatic recount.
If the Des Moines Register wants to round up, that's ok, but then the Des Moines Register should have rounded BOTH Romney and Santorum up to 24.6%, because both of their percentages are HIGHER than 24.51% (rules of rounding). This is what makes the graphic at the Des Moines Register site deceptive.
Furthermore, it is two weeks before the end canvasses are turned in, which is curious, since the County Conventions are already next week.
So, until the final canvasses are in, it would be foolhardy to declare either Romney or Santorum the winner. Those 8 outstanding precincts may make the difference. Plus, in the long run, it is meaningless: the will both get the same number of pledged delegates. In fact, Santorum may get one more since he one almost double so many counties as Romney.
(to be continued...)
-------------------------------------------------------------------------------------------------------------------
UPDATE 2:


Des Moines has changed only the precinct data: apparently, all 1,774 precincts are in and the numbers are as they were at 01:40 CST this morning:

So, the above numbers in the table are final - at least until the final canvasses are submitted in 2 weeks.