Virginia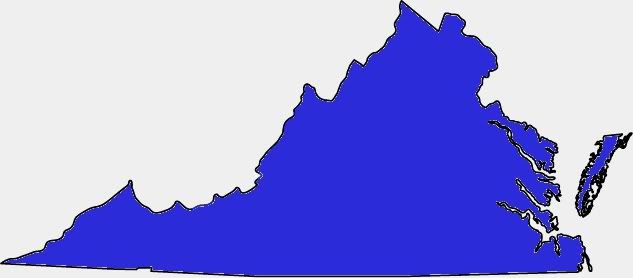 The number of votes cast in Virginia in 2008 reflected a close to 9
-fold
increase over the year 1948!
Exact ratio, 2008 over 1948: 8.88 to 1
Results of the last 6 presidential cycles:
Blueshading = DEM pick-up over the cycle before.
Redshading = GOP pick-up over the cycle before.
Virginia
margin average, 1988-2008 (6 cycles):
GOP +6.13%
Trend:
DEMOCRATIC
VA county-by-county EXCEL spreadsheet
(raw totals for 2008 and 2004, margins, swings, % of state PV, county growth rate)
The partisan rankings for Ranking 25 (Virginia) from 2008 backwards in history to 1964 in Table-format (highlighted in yellow) are in two table-sets. Note the steady rise of VA in the partisan rankings, direction liberal states, from 1988 to 2008:




Links

VA Electoral Development
(electorsthrough history):
12(1789), 21 (1792-1800), 24 (1804-1808), 25 (1812-1820),
24(1824-1828)
,23 (1832-1840), 17 (1844-1848), 15 (1852-1860), did not vote in 1864and 1868, 11 (1872-1880),
12(1884-1928)
, 11 (1932-1948), 12 (1952-1988), 13 EV (1992-present). Note: Virginia hascompleted one cycle of growth and decline and has begun a new cycleof growth, starting in 1952.
Virginia is the 25th most liberal state and the 26th most conservative state ,with a Democratic winning margin of +6.30% and having voted 0.96%
less
Democratic than the national margin in 2008. Virginia is one of the 9.25 Democratic "pick-up" states from 2008, meaning it shifted from the Republican column to the Democratic column. Virginia was the first state in the Partisan Rankings that President Obama won with a margin BELOW the national margin. This means that 24 of 29.25 wins were ABOVE the national average.
VA was the 27th most conservative state in 2004, with a Republican winning margin of +8.20% and having voted 5.74% more Republican than the national margin in that year.

VA was the 19th most conservative state in 2000, with a Republican winning margin of +8.04% and having voted 8.56% more Republican than the national margin in that year.

From 1904-2008, Virginia went for the GOP
14 times
, for the DEMS
13 times
.

Since1948 Virginia went for the GOP
13
time

s
, for the DEMS
3 times
.

---------------------------------------------------------------------------------------------------------------------
I already wrote an
extensive county-by-county analysis of Virginia
in 2009
, in three parts plus supplemental data.

In the analysis are:
-recent electoral statistics
-extensive background information
-county-for-county analysis (percentage, percentage margin, shift, pick-ups, tipping-point Counties)
-maps
-quick mega-county study
-Conclusion.
Go to these links to read the extensive report:
VIRGINIA 2008 – County by County
Forget Ohio's inverted "C". Here, it's more like a slanted "U".

-------------------------------------------------------------------------------------------------------------

Based on its voting record, VA
is not a bellwether state
, having missed the winner in the in Electoral College 9 of the last 26 cycles and the winner in the popular vote 10 of 26 cycles, or 100 years, and more recently, it has missed the winner in the Electoral College 4 times since 1960 and 6 times in the popular vote in those same 51 years.
In Virginia, as of 2010, the Governor, Lt. Governor and 8 of 11 US House Representatives are Republican. Both Senators and the other 3 US House Representatives are Democrats. In the
Virginia General Assembly
, the Republican Party has a hypermajority in the State House and the State House is an exact tie: 50%-50%.
FACIT:
in 2007, I wrote
:
"
VA is statistically a solid GOP state, but the senate election in 2008 and Hillary Clinton's already very high polls numbers (leading her GOP contenders) puts this state, which would normally be "safe" GOP, in the battleground column. Expect a lot of money, advertising and campaign stops in this state. I suspect that this state will flip.
"
And so it was, with Obama's win in
Virginia,which has statistically become a Democratic leaning state, but is expected to be a
battleground
in 2012.