Wisconsin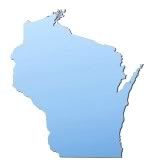 Year

Rank

Winning %

% Margin

% Margin over National


2008



18 /

34




2004



20

/ 32




2000



20

/ 32



Wisconsin margin average, 1988-2008 (6 cycles): DEM+5.47%
The partisan rankings for Ranking 18 (Wisconsin) from 2008 backwards inhistory to 1964 in Table-format (highlighted in yellow):

Trend:
STRONG
DEMOCRATIC
WI Wiki
WI Census Information
WI Census Profile map
Complete WI electoral raw data (Presidential)



WI Electoral Development (electors through history):
4(1848), 5 (1852-1860), 8 (1860-1868), 10 (1872-1880), 11 (1884-1888),12 (1892-1900), 13 (1904-1928), 12 (1932-1968), 11 (1972-2000),
10EV
(2004-present)



The population of WI was 5,627,697 in 2008.
Population Density: 40.0 persons per square Km.
Electoral Vote Density: 562,797 persons per EV.


Wisconsinis the 18th most liberal state and the 34th most conservative state, with a Democratic winning margin of +13.90% and having voted 6.64% more Democratic than the national margin in 2008.
It was the 20th most liberal state in 2004, with a Democratic winning margin of +0.38% and having voted 2.84% more Democratic than the national margin in that year. It was also the 20th most liberal state in 2000, with a Democratic winning margin of +0.22% and having voted 10.30%
less
Democraticthan the national margin in that year.

From 1904-2008, Wisconsin went for the GOP
14
times
, for the DEMS
13times
and
1 time
for an Independent candidate (LaFollette, 1924).
Since1948 Wisconsin went for the GOP
7 times
, for the DEMS
9 times
.


From 1856-1928, Wisconsin was a
reliable GOP state, having gone 16 of 19 cycles for the Republicans, 2 cycles for the Democrats (Cleveland 1892, Wilson 1912) and once for a favorite-son Independent candidate (LaFollete, Progressive Party,1924).

In 1932, FDR captured WI for the Democratic party and for the first time in WI history, a Democrat won the state with a double-digit margin. FDR held onto the Badger State in 1936 and 1940, but Thomas Dewey flipped the state back to the GOP in 1944. In a comic twist of fate, Dewey, in his second run for the White House, lost WI back to Truman and the Democrats (this happened often in the Dewey history 1944-1948, btw), and WI almost perfectly paralleled Truman's percentage and percentage margin nationally in that year (Truman won nationally by
+4.48%
, he won flipped WI by
+4.41%
). WI went easily for IKE in both 1952 and 1956 and also supported Nixon in all three of his runs (1960, 1968, 1972). It was an easy flip and a huge victory for Johnson in 1964, however. Carter flipped the state narrowly in 1976 and then lost it to Reagan in 1980. Reagan held onto WI in 1984.

Since 1988, 6 cycles in a row, WI has voted Democratic, albeit with various margins. Since 1960 (13 cycles), WI has gone for the one or the other party 10 times by single-digit margins. The other 3 times, it went for a Democratic candidate by double digit margins: Johnson in 1964, Clinton in 1996 and Obama in 2008.
An interesting side-note: the two closest elections ever in the history of WI are back to back: 2000 and 2004. Only one other state in the Union has also experienced this phenomenon:
MD in 1904 and 1908
.
The Obama landslide of 2008 broke this pattern of "squeaker"elections, but interestingly enough, WI's place in the partisan rankings have barely budged. This shows how much more in margin in all the other states above WI that Obama bolstered. Obama's percentage and margin are the highest in this state since 1964 and the fourth highest overall for a Democrat.
It should be noted that WI can tend to extreme swings: In 1920, Warren Harding won WI with a record setting
+54.24%
, but just four years later, the GOP lost the state to LaFollette, a progressive-independent, who won his home state by
+16.90%
. That isan overall swing of
+71.14%
for an independent candidate. Alone, the GOP
lost 34.04%
on percentage that year.

In 1912, Teddy Roosevelt got
15.61%
of the vote as an Independent. In 1980, John Anderson took
7.07%
of the vote in WI. Ross Perot took
21.51%
here in1992. So, Wisconsin has shown that it can be very receptive to Independent candidates.

Like
RI
and
MI
, Wisconsin has rewarded incumbents, but not as generously and with margin shifts less than the national margin shift. Explanation below the chart:
President - WI


Year / Margin




Year / Margin




State Shift




National Shift:




State minus Nat'l




FDR




FDR




FDR




1944 /

+1.80




Eisenhower




Nixon




Carter




1980 /

+4.72




Reagan




Bush 41




1992 / -4.75




Clinton




Bush 43




Obama







To explain this gobbledygook, the most important value to understand is the "State minus Nat'l" value, in the right-most column, shaded in grey.

If it is a positive number, then this is good for that incumbent.Unlike RI and MI, where most of the "State minus National"numbers are positive, most of these for WI are negative numbers. And WI is one of the states where pick-ups have happened for the other side in a re-election campaign (1944, 1980). The "State minusNat'l" numbers here show no recognizable pattern, other than that wild shifts have often occured in WI, so a landslide this time around does not guarantee a landslide next time, not by a long-shot.

In order to understand the WI numbers better – and this is different than RI or MI, it is important to note that the start statistic for the first election of many of these presidents also shows a state shift MUCH GREATER than the national to begin with, but these things are not shown on the chart.

Example1: FDR 1936 over 1932.

In 1932, Roosevelt won WI with a crushing

+32.26%

margin. In 1936, Roosevelt's margin increased only nominally to

+33.24%

,which is still a crushing margin.The shift of these two numbers is

+1.28%

, which is

17.42%

UNDER the national margin shift 1936 over 1932. What is not mentioned is that the

+32.26%

margin in 1932 was way over Roosevelt's national margin of

+17.76%

to begin with

, but pretty much in line with the national shift from 1932 over 1928 (which is not on this table). However, to get to +32%, a candidate must be at around 61% at least and in most states most of the time, 62-65% is the absolute upper-ceiling for winning percentages.



Also, the larger swings only have meaning in context:
Example 2:

Both Nixon and Reagan, 1972 over 1968, 1984 over 1980. In both cases Nixon and Reagan won WI in the first election with a low single digit margin,which was then increased to a high single digit margin, around

+9%

.Why then the huge disparity in the Partisan Value (State Shift over National Shift)? Well, Nixon came from a squeaker election in 1968 to one of the three largest landslides in our history in 1972, but WI did not keep pace, therefore such a large negative value. Reagan, on the other hand, already won a landslide with his first election,which he then improved upon in 1984.





Based on its voting record, WI

is not a bellwether state

, having missed the winner in 8 of the 26 cycles, or 100 years, and in more recent history, WI has missed the winner in 5 of the last 13 cycles, going back to 1960. It has missed the winner from both parties pretty much equally.



| | | | | |
| --- | --- | --- | --- | --- |
| WI Superlatives | YEAR | Candidate | Winning % | Notes |
| GOP | | | | |
| DEM | | | | |
| IND | | | | |
| --------------------- | | | Winning Margin % | |
| All-time "squeaker" | | | | Third closest election of 2000, after FL and NM. |
In Wisconsin, the Governor, Lt. Governor and 1 Senator are Republicans. The other Senator is Democratic. The US House delegationfrom NJ is comprised of 3 Democrats and 5 Republicans, a shift towardthe GOP since 2008. In the
Wisconsin Legislature
, the Republican Party has a strong 60 to 40 majority in the House and bare majority in the Senate. This statistic may change, however, as for the first time WI history and in the history of our Union, there is a recall action underway against Gov. Scott Walker (R), and we will know the results of this action on January 17, 2012. If the action is successful, then a recall election is likely at the end of March / beginning of April 2012. Polls show Gov. Scott losing in match-ups against prospective Democratic candidates.
Facit:
Wisconsin is a Democratic state, but not to be taken for granted. After experiencing the two closest "squeaker" cycles in a row (2000,2004), I suspect that most Wisconites are hoping for clean,straight-out wins like 2008 in the future. It may or may not be in play in 2012. Current polling shows President Obama at between +4 and+11 over Mitt Romney, which is not really battleground territory. Against all other GOP candidates the President wins hands-down.