New Jersey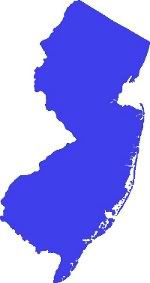 NJ county-by-county EXCEL spreadsheet
(raw totals for 2008 and 2004, margins, swings, % of state PV, county growth rate)
New Jersey
margin average, 1988-2008 (6 cycles):
DEM+7.44%
The partisan rankings for Ranking 16 (New Jersey) from 2008 backwards in history to 1964 in Table-format (highlighted in yellow):
Trend:
STEADY
DEMOCRATIC
NJ
WIKI
NJ Census Information
NJ Census Profile map
Complete NJ electoral raw data (Presidential)
NJ Electoral Development (electors through history):
6 (1789) 7 (1792-1800), 8 (1804-1840), 7 (1844-1868), 9 (1872-1888), 10 (1892-1900), 12 (1904-1908), 14 (1912-1928), 16 (1932-1960), 17 (1964-1980), 15 (1992-2008),
14EV
(2012- ).
The population of NJ was 8,682,661 in 2008.
Population Density: 452.0 persons per square Km.
Electoral Vote Density: 578,844 persons per EV.
New Jersey is the 16th
most liberal state and the 36th most conservative state, with a Democratic winning margin of +15.53% and having voted 8.27%
more
Democratic than the national margin in 2008.
It was the 14th most liberal state in 2004, with a Democratic winning margin of +6.68% and having voted 9.14% more Democratic than the national margin in that year. It was the 8th most liberal state in 2000, with a Democratic winning margin of +15.83% and having voted
15.31%more
Democratic than the national margin in that year.

From 1904-2008, New Jersey went for the GOP
15 times
, for the DEMS
12 times
.
Since1948 New Jersey went for the GOP
9 times
, for the DEMS
7 times
.


New Jersey, one of the 13 founding colonies, was a predominantly Democratic state from 1856-1892, excepting Ulysses S. Grant's re-election in 1872. But the state was known for lean single-digit winning margins for both side. In 1896, William McKinley (R) easily took the Garden State with a
+23.66%
landslide margin.The state remained GOP turf until the turbulent election of 1912, when the Professor from New Jersey, Woodrow Wilson, carried his home state, albeit by a narrow margin of +7.60%. In 1916, Wilson was unable to retain his home state: Charles Hughes (R) from neighboring New York recaptured the state for the GOP and it remained in the GOP column until FDR. Roosevelt won New Jersey all four times, but only in 1936 (his first re-election) did he capture the state with a double-digit margin. In 1932, 1940 and 1944, it was a tight race in New Jersey, in spite of a sizeable national margin each time. In 1948, another New Yorker, Thomas Dewey, flipped the state for the GOP. New Jersey loved Ike in the 1950s and in 1956, Ike set the Republican state margin record of
+30.31%
, a margin that would be broken by LBJ 8 years later (1964: Johnson
+31.75%
). Kennedy also took the state in 1960, in the closest "squeaker" election in NJ history: Kennedy
+0.80%
, making for a margin shift of
+32.55%
over Ike's statistic from 1956. From 1968-1988, New Jersey was considered a Republican state, going 6 times in a row for the GOP candidate, with varying margins. As of 1992, it has entered and stayed in the Democratic column. Obama's 2008 landslide in New Jersey was the highest winning percentage for a Democrat since 1964.


Like
RI
and
MI
, New Jersey has tended to be generous to incumbents, regardless whether they won or lost. Explanation below the chart:
President -

NJ


Year / Margin




Year / Margin




State Shift




National Shift:




State minus Nat'l




FDR




FDR




FDR




Eisenhower




Nixon




Carter




Reagan




Bush 41




1992 /

-2.37


Clinton




Bush 43




Obama



To explain this gobbledygook, the most important value to understand is the "State minus Nation" value, in the right-most column, shaded in grey.
If it is a positive number, then this is good for that incumbent
.
Example 1:
Eisenhower,1956 over 1952.

In 1952, Eisenhower won OR with a
+14.83%
margin.In 1956, against exactly the same Democratic candidate as in 1952 (Adlai E. Stevenson), Eisehower's margin soared to
+30.46
, the GOP record in this state. The shift of these two numbers is
+15.63
, which is
+11.08%
over the national margin shift 1956 over 1952. So, NJ LOVED IKE.
Example 2:
Bill Clinton.

In 1992, in a three-man race against incumbent George. W. Bush, Sr. (R) and Ross Perot (I), Clinton narrowly won NJ with
+2.37%
,also BELOW his national margin in 1992. In 1996, he easily won NJ, once again against Ross Perot (I) and, this time, Bob Dole (R),but with a landslide
+17.86%
, a substantial margin INCREASE
of
15.49
points.Since his national margin actually improved by
+2.96%
over 1992, then his shift was
12.53 points ABOVE the national shift
.

The positive "State minus Nat'l" values tend to be high, the negative values tend to be low in NJ. This undergirds the argument that Obama has, for all intents and purposes, a "lock" on New Jersey.That does not mean that the other side won't try: the Bush campaign saw possibilities in both New Jersey and in Hawaii in 2004 and tried to flip both states, unsuccessfully. So, if a sitting Republican president in a time of war was unable to flip New Jersey, it is unlikely that a Republican challenger to President Obama can do it, unless his name is Mitt Romney. Because of his East Coast ties, Romney
could
make NJ competitive, but polling has not shown this yet.
Based on its voting record, NJ
is not a bellwether state
, having missed the winner in 5 of the 26 cycles, or 100 years, and in more recent history, NJ has missed the winner in 3 of the last 13 cycles, going back to 1960. It has missed the winner from both parties pretty much equally.
In New Jersey, the Governor and Lt. Governor are Republicans, both Senators are Democrats. The US House delegation from NJ is comprised of 7 Democrats and 6 Republicans. In the
New Jersey Legislature
, the Democratic Party has a strong 60 to 40 majority in both houses.
Facit:
New Jersey is a solid Democratic state and has become a reliable elementin the Democratic electoral column. Pundits often call the Garden State "Fool's Gold" for the GOP, but election of Chris Christie as Governor in 2010 may have changed that perspective somewhat. A Mitt Romney candidacy could possibly put the state in play. Any other GOP candidate would not.