Oregon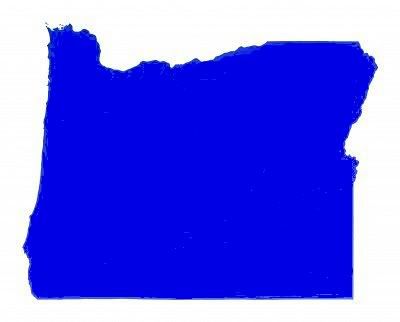 R
esults of the last 6 presidential cycles:
| | | | | | | | |
| --- | --- | --- | --- | --- | --- | --- | --- |
| Year | Rank | Winning % | % Margin | Part. Value | "Swing" | National Swing | Trend |
| | | | | | | | |
| | | | | | | | |
| | | | | | | | |
| | | | | | | | |
| | | | | | | | |
| | | | | | | | |
Oregon
margin average, 1988-2008 (6 cycles):
DEM+7.28%
Trend:
STRONG
DEMOCRATIC
OR county-by-county EXCEL spreadsheet
(raw totals for 2008 and 2004, margins, swings, % of state PV, county growth rate)
Oregon
margin average, 1988-2008 (6 cycles):
DEM+7.28%
The partisan rankings for Ranking 15 (Oregon) from 2008 backwards in history to 1964 in Table-format (highlighted in yellow):
Electoral Development (electors through history):
3 (1860-1884), 4 (1892-1908), 5 (1912-1940), 6 (1944-1980), 7 EV (1984-present).
Oregon is the 15th
most liberal state and the 37th most conservative state, with a Democratic winning margin of +16.35% and having voted 9.09%
more
Democratic than the national margin in 2008.
Oregon was also the 15th most liberal state and the 37th most conservative state in 2004, with a Democratic winning margin of +4.16% and having voted 6.62% more Democratic than the national margin in that year.
Oregon was the 18th most liberal state and the 34th most conservative state in 2000, with a Democratic winning margin of +0.44% and having voted 0.11%
less
Democratic than the national margin in that year. Oregon is one of the few states in the Union to have identical partisan rankings for the the last two cycles. It is not quite as consistent as neighboring Washington, but the two states tend to go for the Democratic party with similar margins.

From 1904-2008, Oregon went for the GOP
16 times
, for the DEMS
11 times
.
Since 1948 Oregon went for the GOP
9 times
, for the DEMS
7 times
.
Summary
Oregon,
which entered the Electoral College in 1860
,was from its beginning a moderate Republican state and only went for the DEMS twice between 1860-1928 (in 1868 and 1912), meaning, it went for the GOP for 12 of 14 cycles. 8 of those 14 cycles were single-digit wins.
Some superlatives to note:
1904, Teddy Roosevelt,
67.06%
,
+47.62%
margin, still the state record-holder and way above the second place landslide:
1936, FDR,
64.42%
,
+34.79%
margin, Democratic record-holder in the state.
1928, Hoover,
64.18%
,
+30.04%
margin.
It went for all four of FDR's landslides (the first two elections, above the national average, but the last two elections, below the national average) and also for Johnson's 1964 landslide. From 1968-1984, the state was GOP territory. That being said, the state trended strongly against Eisenhower in 1956 over 1952, shown in the incumbents table below. Since 1948, OR has been a single-digit win in 11 of 16 cycles.

Since 1988, Oregon has voted reliably Democratic for 6 cycles in a row, mostly due to the Democratic hypermajority in Seattle and environs. It went for a higher margin for Kerry in 2004 than for Gore in 2000. Obama's landslide in OR was the first double-digit win in the the Beaver State since 1984 and was the highest winning percentage and percentage margin since 1964, meaning that Obama's landslide in OR was greater than Reagan's and Nixon's landslides, also greater than Eisenhower in 1956.
For RI and MI, I indicated that those states tended to be generous to incumbents. The history of OR vis-a-vis incumbents is a much more mixed one and worth taking a look at.
Explanation below the chart:
To explain this gobbledygook, the most important value to understand is the "State minus Nation" value, in the right-most column, shaded in grey.
If it is a positive number, then this is good for that incumbent
. Unlike RI and MI, where most of the "State minus National" numbers are positive, most of these for OR are negative numbers. And the 3 positive values are split among both parties. There is no apparent pattern in all of this, which makes OR a more unpredictable state than most realize.
Example 1: Eisenhower, 1956 over 1952.

In 1952, Eisenhower won OR with a
+21.61%
margin. In 1956, against exactly the same Democratic candidate as in1952 (Adlai E. Stevenson), Eisehower's margin was reduced to
+10.49%
,still a landslide margin. The shift of these two numbers is
-11.12%
, but nationally, Eisenhower's margin improved,
+4.55%
over 1952.
longhand math:
-11.12- 4.55 =
-15.67%
.That is a massive margin trend AWAY from the incumbent.
Example 2: Another case of an incumbent who lost support in OR and at least one of hisopponents was the same as in the cycle before: Bill Clinton.

In 1992, in a three-man race against incumbent George. W. Bush, Sr. (R) and Ross Perot (I), Clinton easily won OR with
+9.95%
, for all intents and purposes, a +10 point landslide, also above his national margin in 1992. In 1996, he again easily won OR, once again against Ross Perot (I) and, this time, Bob Dole (R), but with
+8.09%
,a margin
REDUCTION of 1.86
points. Since his national margin actually improved by
+2.96%
over 1992, then his shift in OR
lagged 4.82 points BEHIND the national shift
. This doesn't mean that OR was in any way a competitive state in 1996, but it means that OR bucked the trend somewhat. As it has often done, irrespective of party.
Example 3: since the shifts from election I to election II (re-election) are practically identical between Clinton 1992-1996 and Bush, Jr. 2000-2004, let's look at Bush Jr.'s two elections as well. Please notice that
OregonBallot Measure 60
, which passed in 1998, setting the standard for mail-voting in OR, means that 2000 was the first presidential election in the history of our Union where the ballot in OR was conducted completely by mail.

In 2000, Bush lost OR by a razor thin
-0.44%
margin. There were other states that he also lost by very thin margins, like NM (Gore
+0.06%
) and IA (Gore
+0.31%
), states that he picked-up in 2004. But in 2004, the Democratic margin in OR increased to
+4.16%
, making a shift away from Bush of
-3.72%
.Since the shift in his national margin was a positive one (
+2.98%
),this means that OR bucked the national shift by
-6.70%
.
That makes OR unpredictable to a certain extent, and probably not inclined to help the national margin of an incumbent. But does this mean that OR is a likely GOP pick-up in 2012, that Obama is likely to lose OR?
The answer is "no".

Take a look at the table above again.
Not one single time on this table did OR shift sides during a re-election campaign.
Either the incumbent won this state twice or he lost it twice – but it has not been a pick-up state in an re-election campaign since 1932 over 1928, where the state flipped to the Democrats and FDR in 1928 after Hoover easily won it in 1928. In other words, as of 2012, we have to go back 80 years in history to find a precedent where an incumbent president running for re-election lost Oregon.

Not only that: the voting records of WA and OR are very similar to each other, a least in terms of end-result, not in terms of trends. The demography and geography of OR and WA are also very similar to each other: both states are divided into eastern and western halves via the Cascade Mountains – and in the eastern halves, conservative thought has dominance. In the western halves, however, where the largest cities are, liberal thought has dominance (Portland, Eugene, Salem, Greshem in OR / Seattle, Tacoma, Bellevue, Everetta in WA - all cities with over 100,000 population). The only exception to this paradigm is Spokane, WA, which is east of the Cascade Mountains and deep within GOP territory.
Interesting statistic:
OR is one of only four states in the Union where the all three superlative winners (GOP, DEM and IND - in the case of IND, either winner or highest IND percentage) between 1904-2008 all carry the name Roosevelt, the other states being WA, SD and MN.
Based on its voting record,
OR is in absolutely no way a bellwether state
, having missed the winner in 7 of the 26 cycles, or 100 years, and in more recent history, WA has missed the winner in 5 of the last 13 cycles, going back to 1960. It has missed the winner from both parties pretty much equally.










| | | | | |
| --- | --- | --- | --- | --- |
| OR Superlatives | YEAR | Candidate | Winning % | % margin |
| GOP | | | | |
| DEM | | | | |
| IND | | | | highest IND showing |
| --------------------- | | | | |
| All-time "squeaker" | | | | |








In Oregon, the Governor, Lt. Governor, both Senators and 4 of 5 US House Representatives are Democrats. In the
Oregon Legislative Assembly
, there is a lean Democratic majority in the State Senate and the State House is split exactly 50-50.

Facit: in 2007, I wrote: "
Though the wins are more moderate, Oregon is a more solid DEM state than the GOP wants to admit. It is at the growth phase of liberalism in this state (as are also California and Washington, meaning, the entire Pacific Coast), and should trends continue, this state will continue to go with higher and higher margins for Democratic candidates in the next 3-4 cycles.
"
Facit 2012: We saw evidence of this in 2008. The results of 2012 will either then confirm or negate this trend.